Tania Oliveira
"Cabin crew course, Hahn training center.  After meeting so many different people from so many different countries,"
Read More
 Cabin crew course, Hahn training center.  After meeting so many different people from so many different countries different personalities, and meeting our instructor (Daniel Dobak) just made me feel like I was on the right path. Studying hard, passion and having fun was the key to my success. I am so grateful for the experience that Ryanair and Crew link has given me. Definitely one of the best experiences in my life and to keep forever."
Maria-Mihaela Panusciac
"I believe that the cabin crew training course was an once in a lifetime experience which I will never forget it. Why?  "
Read More
"I believe that the cabin crew training course was an once in a lifetime experience which I will never forget it. Why? Because I met new people from different countries and collected a lot of unforgettable memories. My collegues were awesome: always having fun, suporting each other and I felt them as my family, they helped me not to miss my home. We were lucky to have Balazs Kardos as instructor. He is the best, in my point of view. I liked most his teaching ability, mixing up studying hard, explanations, answering at all questions, patience and good sense of humour. I applied for this job because I wished to be a cabin crew few years ago; this is why I studied with pleasure and the training course seemed easy for me. It is all about doing what you like most because you will do it with pleasure. It was a great feeling when I got my wing and I realised that after six weeks of studying hard but,also having fun, I am living my dream: being a cabin crew. "
Alina Sukhova
"Some people ask me why I choose this Job. I wanted to meet new people,"
Read More
to work in a team, to travel and that's what I am doing now. I recommend applying now and making the dream real (February 2017).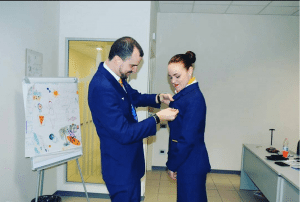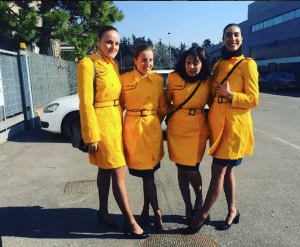 Maybelline Mauger
"I did a 6-week training course in Hahn Germany which will always stay in my memory."
Read More
Going to work is living my passion. It's amazing, I love my job so much. You really should try, it will be amazing, trust me! So hopefully I will see you soon on board (March 2017).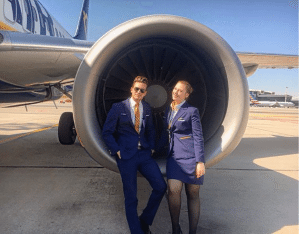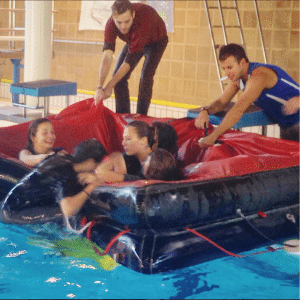 Owen Stocker
"From when I was a young child I always wanted to fly as cabin crew,"
Read More
Crewlink made my dream come true, now I'm flying for over 2 years and wouldn't look back at doing anything else! (May 2017)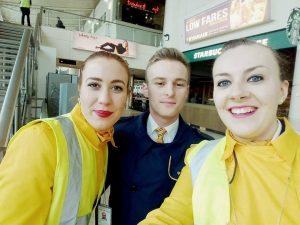 Cristina Larosa
"I would say the course is really interesting and fun, you meet people from different nationalities,"
Read More
and still every day at work you never get bored cause you get to work with different people day by day! It's been more than one year that I'm doing this job and I still love it!! (May 2017)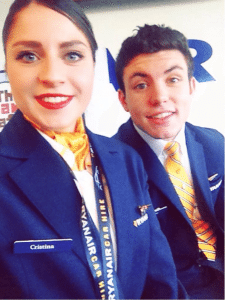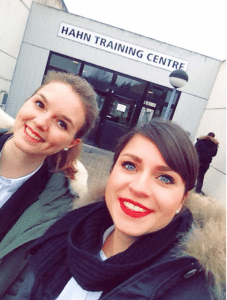 Maria Bianca
"I was very attracted by aviation, meeting new people, travelling everwhere and doing something different."
Read More
As being Cabin Crew you will be doing something different every flight – so you will be very entertained all of the time and you will never be bored –  which is amazing!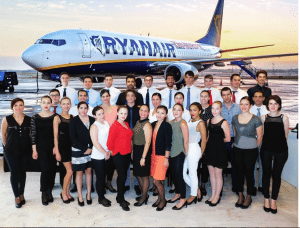 The company will give you lots of new opportunities and with so many bases you can live wherever you want and you can travel where ever you want (March 2017)
Pasqualino Aiello
"The training course in the Training Centre of Hahn is an amazing experience where I got to know a lot of new people from..
Read More
many different countries, I got a chance to compare myself with different cultures." It is not only a period where I was required to give my best in studies but it was also a period where I had a lot of fun. Being cabin crew is fantastic, I work in a dynamic environment, always working with different and fantastic co-workers. I interact daily with hundreds of passengers from many different nationalities, it is an amazing sensation and satisfaction when I make a passenger happy. It is an unforgettable journey."
Margherita Schiavone
"My name is Margherita and I started the training course on 10th of October.What to say about this …"
Read More
What to say about this experience? "Nice and easy" wonderful! 🙂 Mat, the best instructor, the best colleagues, a lot of thing to study but also a lot of funny moments. It is the best way to grow up! New places, new knowledge, a new job and…new friends! Yes, sometimes it is hard, but…what personal satisfaction when you pass!
Emilio Giarracca
"I started training on the 17th of September, I have really enjoyed this 6 weeks experienceand I have learnt many useful things".
Read More
having fun in the same time. All the staff members are all nice and always available when we needed help. The course itself is hard work but it pays off in the end. It was very stressful just before the exams because we have little time. The instructor was great, he worked hard to make sure we all passed. I want to thank my course- mates/colleagues, Crewlink staff Beata & Miklos and of course our Instructor Jozef for supporting us.
Alessandro Volpe
"My name is Alessandro, I began my training course at crewlink training centre in Hahn on the 25th.."
Read More
My name is Alessandro, I began my training course at crewlink training centre in Hahn on the 25th February 2014. It has been an amazing experience from the very first day! My classmates and Matthew the Instructor have been the best ever. Everybody has done their best to complete the course and to enjoy a great time over the last 6 weeks. This training course is the best for yourpersonal and professional growth, you will get:  New Knowledge, a New Job, New Friends and a New Life 😉 You really need to study in order to pass the exams, sometimes it is hard, but it totally worth the effort! Your attitude towards the people, your colleagues and your job will change and you will start thinking and acting in a positive way. It has been the greatest experience of my life so far  and cannot wait to get to London Stansted and start flying very very high..
Cristina Bernardi
"I enjoyed a great experience in ryanair training course, although it was hard and challenging I found it thrilling."
Read More
I met such amazing people and a great instructor, Anna that helped us to go through these six intense weeks.
David Moran
"I finished my course one month ago, I was lucky enough to complete the 6 week cabin crew training course."
Read More
My colleagues were fantastic, I made a lot of new friends and we had a great time together. We also had to work hard and study, but all of our effort paid off in the end, and of course with the help of our instructor Angela, who taught us how to become supreme cabin crew members on board Ryanair aircraft. After a month of flying as a cabin crew I am enjoying this job so far. I would highly recommend this job to anyone who feels attracted by this kind of lifestyle. Try it because you wont regret it, I am sure of it. Many thanks Crewlink for making it happen.
Monica Armesto Gonzalez
"The first day I arrived in Frankfurt-Hahn I was very nervous, thinking about what the experience would be like here: accommodation, colleagues, teacher"
Read More
The first day I arrived in Frankfurt-Hahn I was very nervous, thinking about what the experience would be like here: accommodation, colleagues, teacher … I always wanted to be a cabin crew member and decided to start this adventure and achieve my goal.
The first day of presentation was phenomenal, I met people from different countries, different cultures and really if you enjoy it, you really want to dedicate yourself to this area, in which you will meet different people every day. The second day we had the test of the uniform, I was very excited to see that I was achieving my goal and to think that if I really made a commitment, I would be able to wear it in 6 weeks.
The first impression I had to meet our teacher Balazs Kardos was very good because he seems to be a person who really likes his profession, likes to teach and puts all his strength because we learn, understand everything and make us enjoy the realization of course. All my classmates and I think that he is the best teacher we have been able to have because apart from being a teacher, he has made us love him in a very short time and vice versa. I thank him for being so good to us.
The course has been very complete, we have learned many things necessary to develop our work as cabin crew; I think it is very good idea that every day there are test exams, because in this way it forces us to study what is given in class and see if you understand all the matters; The facilities are adequate to carry out this course; The accommodation is very well, since we have everything we need and at a suitable distance to the "Hahn Training Centre".
As for the classmates to say that we have all been a great family, I have learned new things from each of us, even a few words in different languages, different customs, we have laughed together, when you miss the family, we are all always one.  I will take my new family with me in my thoughts and where ever I travel. I will never lose contact, because they have been a part of a new experience for me, therefore I consider them important despite in so little time.
Today we fly to our base, in this case we all have all been contracted to base Dublin. I am very happy to have achieved my goal. I promise to work hard and put into practice everything learned by our great instructor, to continue learning and to advance in this sector.
Thank you for giving me this opportunity to be part of your company.
Hope to see you all in the air.
Nicola Sforza
"I love this job. Everyday you can meet new people from different countries."
Read More
If you want to live in a new city or change scenery – Choose Ryanair – always getting better! (March 2017)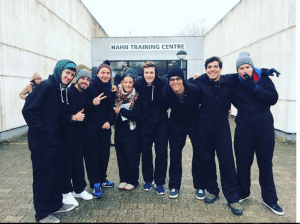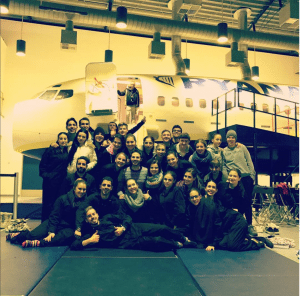 Ema Martins
"What I love most about the job is you get to come home every night, and sleep in your own bed every night. "
Read More
You meet amazing people from all over Europe.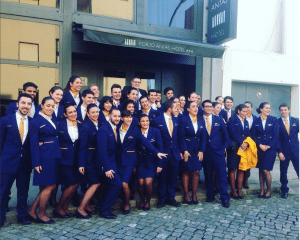 Everyone is working towards the same goal and that is making Ryanair Better. That's the new motto- always getting better (April 2017).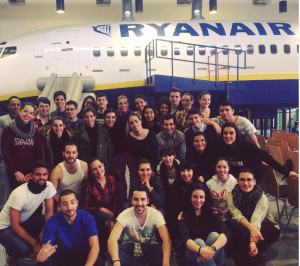 Petr Zouhar
"Being Cabin Crew is not just a job it is a lifestyle.I did my training course in Poland. "
Read More
I have been working as Cabin Crew for 7 years and I have never regretted my decision – and either will you.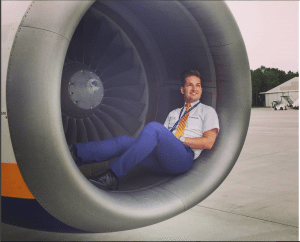 If you are a positive, friendly and responsible person I would definetly recommend you apply (March 2017)
Stefan Step
"A long time ago someone said choose a job you really love and you will never work a single day in your life."
Read More
That is why as Cabin Crew, every day for me is an adventure. Every single day I am meeting new people from different countries with different cultures (March 2017)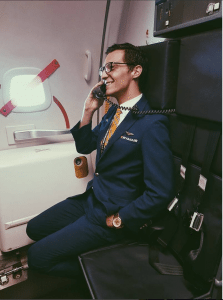 Jemma Behan
"After 6 weeks of intensive training I received my wings. Never in a million years did I think I would achieve my dream job."
Read More
If you are serious about this position I do strongly advise recommend you to apply through Crewlink to become Ryanair Cabin Crew – You never know, maybe you will be based in Dublin I will see you in the Crew Room (April 2017).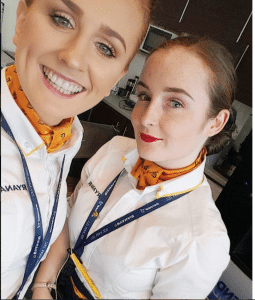 Diego de Dios Muñoz
"My training course was in Hahn 5 years ago where I met amazing people with whom I shared the beginning.. "
Read More
..of a new chapter in my life. The training in Hahn, Germany was 6 weeks of an intensive training course but I would definitely repeat it if I had the chance. After the training course I received my contract and began my career as cabin crew. I am so excited to be Cabin crew on board the world's number one scheduled airline!
Emma Parlatore
"What brought me to Ryanair was my desire to become cabin crew, meeting new people and seeing new places…"
Read More
"What brought me to Ryanair was my desire to become cabin crew, meeting new people and seeing new places. I'm now flying with Ryanair for nearly two years, based in Dublin. After two years I am still in love with my job. My course in Hahn was a really good experience, really intensive six weeks however very enjoyable. I loved every single day of the course as there was always something new to learn. What really impressed me was the enthusiasm and encouragement we received from all the staff especially from our instructor Carl. Thanks to Crewlink for this great opportunity."
Matteo Galvan
"Hello everyone! My name is Matteo. I am 20 years old and I come from Pescara, Italy. I work as a cabin crew member for Crewlink"
Read More
I work as a cabin crew member for Crewlink operating on Ryanair aircraft Since October 2014. I am currently based in Brussels Airport. I always wanted to become a cabin crew member since I was young and I flew for the first time. Thanks to Ryanair and Crewlink my dream has finally come true! After attending an intensive 6 week training course in Frankfurt Hahn I got my "wings" and my career has taken off. The training course has been one of the most rewarding experience I ever had in my life. I also had the chance to meet new friends from all over Europe. I will never forget it!I love working as a cabin crew for Ryanair because I love flying and taking care for passengers onboard my flights, knowing a job well done will give them a great journey. Every flight is different. That is what makes this job so special. Thanks to hundreds of passengers you meet every day, you have the chance to learn new languages and habits from all over the world. See you onboard!
Jose Miguel Martin Rodero
"I started my course on the 8th of April 2014. It has been a really good expierience. The course has been really intensive but really rewarding."
Read More
The course has been really intensive but really rewarding. The instructors, Arianna and Marcin were really professional and really helpful during the course. I'd also like to thank crewlink staff for their help with paperwork.
Bartolo Cataudo
"My experience with the training course was amazing, I met some really great people during my time at the…"
Read More
 Hahn Training Centre. Working with Crewlink has given me the chance to make some fantastic friends while getting to travel and live all across Europe. I would recommend starting a career with Crewlink to anyone who has a dream to become a flight attendant!
Rachel Groves
"Just completed my 6 weeks training course in Hahn training centre and I can honestly say…"
Read More
…best 6 weeks I have ever experienced. Not only have I got my dream job with one of the busiest airlines but also met some friends for life. Crewlink staff were exceptionally helpful and cannot thank them enough for inviting me to an interview and offering me a place on the course. Could not have completed the course without help from the instructors. So friendly and helpful and made it all happen. A lot of hard work was involved however the hard work pays off and I could not be any happier!
Gerlando Zucchetto
"My name is Gerlando. My experience in Hahn was absolutely epic. I started the training course on the 5th of June 2014"
Read More
and from the beginning I enjoyed all the moments spent in the training centre. The course was very hard and intensive, especially the first aid (OMG, how many things to know!!!) but, thanks to my inimitable and unrivaled colleagues and the fantastic instructor Justyna (I really miss each one of them), it became the best part of my period in Hahn. If I had the chance I'd do it another 1000 times. Love your flight!